Visit the website...
Claim Listing
Send a Message
Chiropodist Services Mildenhall Footcare





(0 Reviews)
Chiropody Services
Nail Cutting
Regular nail cutting is available to those patients who have diffuculty keeping their toenails at a comfortable length.
Corns and Callus (Hard Skin)
Regular debridement (reduction) of these lesions can usually offer instant pain relief. This is usually a pain free process and when undertaken in conjuction with further footcare advice can prove to be an effective treatment.
Thickened Nails
Easy and pain free nail reduction can be performed and the nails can be reshaped to make them as presentable and comfortable as possible. Suitable advice can be given regarding further treatment with either medication, home treatments or regular clinical reduction.
Ingrowing Nails
Removal of the offending nail spike that usually causes the discomfort can be surprisingly painless. Advice on suitable dressings can also be given along with liason with local GP's when antibiotic treatment is required if infection is present. If the problem is persistant then surgical intervention may be advised.
The majority of our clients that have regular chiropody care find that treatment every six to eight weeks is most effective in reducing the build up of hard skin, corns, ingrowing and thickened nails as well as keeping a comfortable toenail length. Your chiropodist will advise each patient on an individual basis.
Location:
Mildenhall, Suffolk
Street Address:
1.2
Website:
mildenhallfootcare.co.uk
Phone:
01638 713092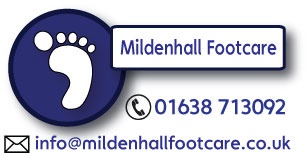 Listing added on: 07/26/17 , Total hits: 4826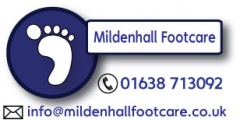 1.2
Mildenhall, Suffolk