Visit the website...
Claim Listing
Send a Message
HOUSE FOR RENT 3-4 Bed 10 mins from Lakenheath main gate





(0 Reviews)
House rentals in Suffolk.
Home available Now In Brandon, Suffolk
Premium listed star property. Ideal for all ranks. 1120 PM Available June 21 2018
This is a beautiful comfortable family home to let-4 Bed Property only 10 minutes drive from RAF Lakenheath main gate in Suffolk.
Unlike many properties in this area it has off road parking for up to two vehicles.
This lovely 4 bedroom bungalow is situated in the quietest areas of the market town of Brandon on the Suffolk/Norfolk border. It backs on to the forest and there is virtually no noise from the neighbours. This property has to be seen for its tranquillity.
It is ideal for a young family or singles. There is no through traffic immediately outside (so its safe if you do have kids) whilst only being a 10 minute drive from RAF Lakenheath & 15 mins from RAF Mildenhall & Feltwell.
The house has modern secure double glazed windows & doors & a conservatory/dining area. Bathroom with bath shower. A built on the garage that can be entered via the kitchen. This has been used as a laundry room as well as a gymnasium before. Built-in bedroom wardrobes and also a large loft area that is boarded out. The loft area has recently been insulated. The garden has a large shed also making plenty of space for storage.
This property has been rented to USAF staff since 2006.
This house has always been very popular for the US military, mainly due to being so close to the RAF bases. So hurry as we will be taking offers on a first come first served basis. We have rented properties to the military for 16 years now and have excellent references if you wish to see them.
To arrange an immediate viewing please call us now on 07775 753596 or simply email dawsostephen@gmail.com
Street Address:
Woodlands, watton road
Website:
https://lakenheath.bookoo.com/i/40013674
Phone:
7775753596
Listing added on: 07/02/18 , Total hits: 2249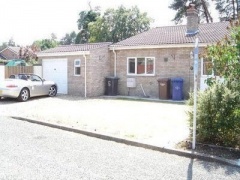 Woodlands, watton road