Visit the website...
Claim Listing
Send a Message
Worlington Hall Country Hotel





(0 Reviews)
About Us
Worlington Hall is Grade II listed and has a unique history. It was built in 1570, but the original Elizabethan house had its beautiful Queen Anne façade added in the early 18th century. The original Elizabethan carved-wood panelling adds greatly to the intimate character of the bar which, with its cheerful log fire, provides a perfect setting to relax before or after dinner.
We offer the full facilities of a Country Hotel: á-la-carte restaurant, function suite, lounge bar and charming accommodation, boulles and croquet available to play, children welcome. The bar and restaurant are open to non-residents too. Both resident and non-resident guests are welcome to have a light snack in the bar at lunchtime, or enjoy a full a la carte dinner in the lovely Willow Room or Oak Room restaurants.
The Garden Suite has its own private entrance from both the garden and car park, it provides the perfect setting for weddings, dinner dances and conferences. Up to 150 guests can be accommodated in stylish comfort, with ample room for entertainment and dancing. Separate bar facilities are also available.
Private dinner parties can be held in the comfort of the Willow Room, which is also available for business meetings or working lunches. This attractive, sunlit room also provides pleasant surroundings for guests to start the day with a hearty, home-cooked breakfast.
The candle lit Oak Room is the larger of our two restaurants, and offers guests the opportunity to savour the delights of freshly prepared food in a warm and relaxing atmosphere
Location:
Mildenhall, Suffolk
Street Address:
The Street, Worlington, IP28 8RX.
Website:
www.worlingtonhall-hotel.co.uk
Phone:
01638 712237 Tel: 011 44 1638 712237 (From US)
Listing added on: 08/08/17 , Total hits: 3099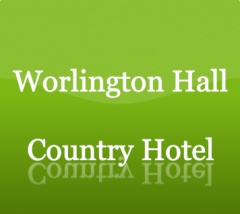 The Street, Worlington, IP28 8RX.
Mildenhall, Suffolk